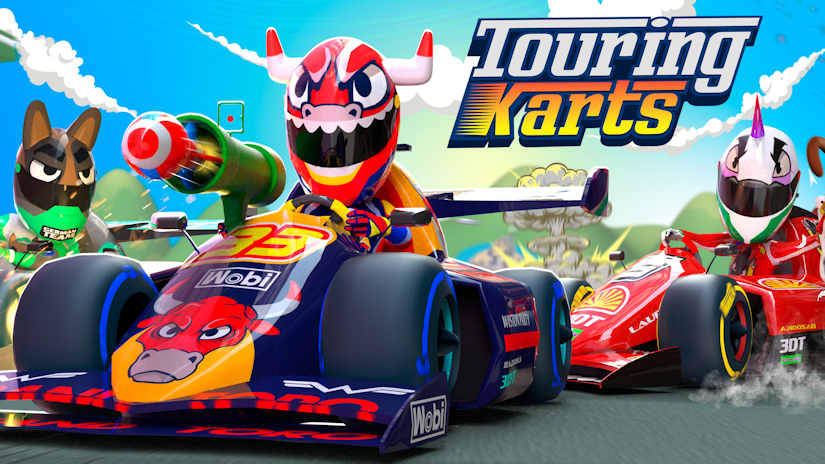 Master your racing skills while interacting with the environment as if you would be doing it in the real world. Get ready to make your way through the first place while throwing ice cubes, chickens, bombs, shoot bazokas, smashing your rivals with a giant hammer, and also take a break in the middle of the chaos to recover your health by drinking energetic beverages!
FEATURES
Power-ups originally designed to be used in VR, can also be enjoyed on non-VR platforms.
3 views to choose that are specifically designed for VR: One free of dizziness, a classic one in 3rd person and the more immersive first-person view.
22 tracks and 30 customizable cars, all inspired in Formula 1 tracks and teams.
Multiple Controls Compatibility: FFB steering wheels, motion simulators, VR controls, classic controls, etc.
Quick Race Mode with all cars and tracks available from the get-go.
Up-to 8 players Online Multiplayer support with no waiting times. You will be training against the AI meanwhile your rivals enter the circuit.
3 Online Game Modes: Unique Daily Cups, Custom Play with your Friends and Random Play.
Story-based Mode with more than 500 original challenges (+120h to complete) with collectible prizes. It can be completed in Single Player or Multiplayer Mode.
Craft up-to 45 new power-ups by combining the ones you already have and surprise your rivals!
Work:
Carry on Press and Influencer relations Worldwide (events, sites and streamers / youtubers).
Planify and design press releases.
Coordinate with the audiovisual production / graphic design team to craft the best marketing assets the promotion of the game.