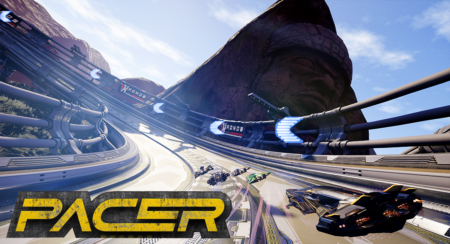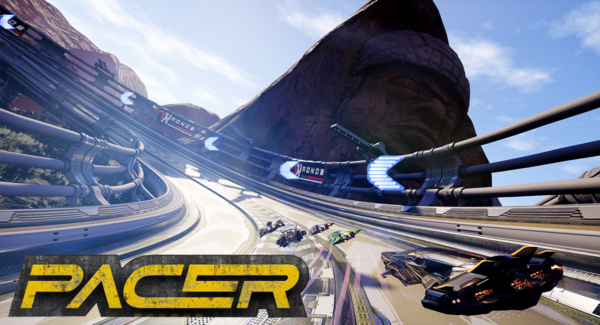 Pacer (2019 and 2020, R8 Games)
Pacer, by R8 Games(UK), is an anti-gravity combat racing game set in the year 2075. Work your way through the Single Player Campaign, unlocking craft, tracks and your inner rage. Develop your racing and combat skills to climb the Leaderboards. Race against the world on-line in the 10 player Multiplayer W.A.R (World Anti-gravity Racing). The garage gives unprecedented craft customization for performance, weapon loadouts and skins.
MAIN FEATURES:
14 tracks with night and reverse *a variants – 30 racing scenarios in total
5 fully customizable Craft
Garage for customizing Craft, setting Weapon load-outs and tweaking handling
10 Team Skins to choose
8 Race Modes: Quick, Time Trial, Destruction, Speed Lap, Elimination, Endurance, Storm, Flowmentum.
Single Player Campaign with 5 racing classes to play through: from FF4000 class to Elite. Meet "The Beast" in a 1 on 1 challenge to win rights to the rarest of Skins.
online Multiplayer – 10 pilots – Lobby Host chooses Speed Class.
Music: Includes more than 80 tracks, with original tracks created by Tim Wright, also known as CoLD SToRAGE.
Unlocking
From the start all craft are available to you. Tracks and variants are unlocked by progressing through the Campaign. If you want instant access to all tracks, variants, craft and speed classes you can find them in Multiplayer.
Garage / Tech Credits
Garage Cards are bought with Tech Credits gained through competing in Single and Multiplayer in any of the different modes (except for Time Trial) including Campaign.
Slots
The Garage shows Slots around the craft which offer upgrade Cards to change handling, performance, defensive and offensive weapons.
Trailer:
Work:
Digital PR work for UK based R8 Games Ltd, focused in Latin America, Spain and Portugal. Platforms: Steam, PS4 and Xbox One.
Events PR work at Brasil Game Show 2019. Booth hiring and setup, scheduling (and giving) media interviews with influencers and journalists.
Video production for the campaign (Spanish and Portuguese speaking regions):
Campaign numbers:
More than 350 press coverage pieces in Spanish and Portuguese speaking territories between 2019 and 2020.
More than 90 press coverage pieces in the first 3 months of campaign.